If the bright red, three-dimensional shoe on the outside of the Craddock Terry Hotel in Lynchburg, Virginia doesn't grab your attention, I'm not sure what would.  Originally a turn-of-the century shoe factory, the Craddock Terry Shoe Company was the first shoe company south of the Mason-Dixon Line and the fifth largest in the world.  Built in 1901 on the edge of the James River, Lynchburg's commercial success was due in part to the shoe factory. The red shoe that currently sits at  the front of the hotel these days was formerly part of the company's advertising display on highway billboards.  The Craddock Terry Hotel has found a way to give a nod to the past while welcoming today's guests into their lovely luxury boutique hotel in a central and convenient location to all of what the Lynchburg area has to offer.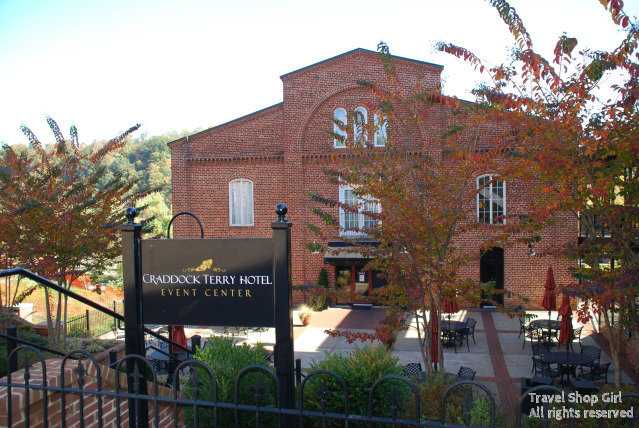 The hotel occupies what was the original building as well as a historic tobacco warehouse next door.  Adding to the charm of the hotel's 44 guest rooms are the unique variations within each building's architecture. From King Suites to deluxe rooms, nothing is standard at the Craddock Terry Hotel.  All of the rooms have exposed brick or stone exterior walls along with modern decor and views of historic downtown, the James River, or the Blue Ridge Mountains.  With two on-site restaurants including Shoemakers American Grille and Waterstone, guests can relax after a day of sightseeing and enjoy a drink or two with a great meal.
Who can resist the hotel's official greeter, Buster Brown?  A Wirehaired Fox Terrier, Buster Brown is 3 1/2 years old and not only greets hotel guests, but guests can also sign up to take him on walks and runs on the trails nearby.  How is that for service?  Buster Brown clearly loves the attention he receives from the staff as well as guests.
After a full day of touring the Lynchburg area, we finally returned the hotel and I was able to get into my room around 5 pm.  They sent me through the lobby and over the little walkway and I started thinking that maybe I misunderstood the directions. When I opened the door to the building where my room was, which was the old tobacco warehouse building, I smelled what I thought was French Toast, but was something cinnamon-like that was both comforting and appetizing all rolled into one.  Imagine my surprise when I finally opened my door and discovered that my accommodations was one of the hotel's six suites.
Here you can see the exposed brick in the front behind the sofa and a large flat screen TV, while the desk area is in the forefront on the right.
Each suite is outfitted with a triple-sheeted king bed which is tall and big.  I seriously considered taking a running jump to get into it, but really… I'm not complaining!  It was one of the most comfortable beds I have ever slept in anywhere. I felt so greedy having this huge room to myself and seriously wished my husband could have been there to share it with me.  There was substantial storage in the dressers, nightstand, and the large closet.  The only thing missing was a room safe, but they had just about everything else including amazing leather wall covering, which I bet is easy to keep clean and looks incredible in the room.  The decor was a perfect contrast between the rough brick exposed walls and the soft bedding and textured leather walls.  Overall, it was my style and truly fits their "where history meets contemporary" point of view.
Not normally a bathtub kind of girl, I could not pass on this amazing sunken tub in my huge bathroom.  I have had apartments that were smaller than this bathroom and that is no joke!  Double vanities, separate shower, and perfect lighting, this is a bathroom that you might see in a design magazine. You can see that great care was taken in every tile choice, in every furniture piece, and in every aspect of each room at the Craddock Terry Hotel. When a hotel cares about the little details, the customer absolutely wins in the end. I loved that I had all the modern amenities I could possibly need, but when they renovated and modernized the hotel, they showed considerable restraint and didn't remove all of the building's character. Because, after all, this hotel's character is its number one selling point.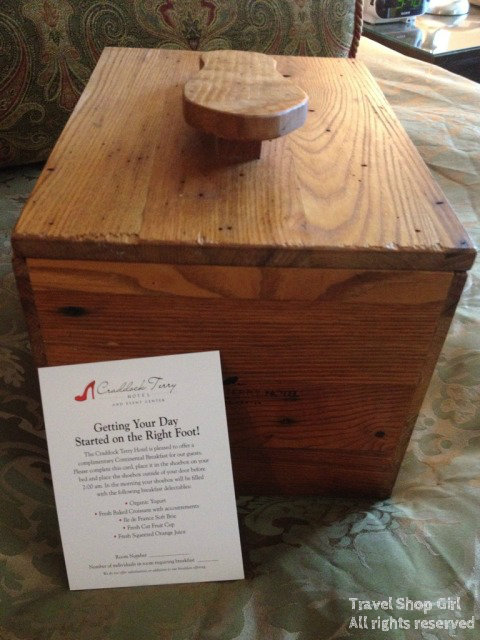 Sometimes hotels can take the history and character card too far and it becomes kitschy or gimmicky. The Craddock Terry Hotel has not done that at all.  Yes, there are shoes in the lobby that remind you that this was once a shoe factory and yes, they do sell tiny shoe ornaments in the small gift store, but they don't hit you over the head repeatedly with well, a shoe.
I absolutely loved the hotel's extremely creative "breakfast shoe box." Simply place the card inside the box with your room number and how many people will be eating and then place it outside of your room before you go to bed.  Like a shoemaker's little elves, the next morning your box will be filled with breakfast that you can bring it into your room when you are ready.  The hotel also offers the standard room service, but this was a first for me.  I think it was quite clever of them to create a unique and interesting way to connect the shoe motif to a need that they could easily fill for their customers.  Inside your box you'll find orange juice, yogurt, fresh fruit, a croissant, brie cheese, butter, and jam. Filling enough to get you on your way without having to wait around for room service to deliver your food.  Pair it with a fresh cup of coffee from the in-room Keurig coffee maker and you will definitely be ready to start your day.
If you are in Lynchburg visiting family or taken in the local sights and want to try something different, look for the big red shoe and consider the Craddock Terry Hotel "where history meets contemporary."
Craddock Terry Hotel and Event Center
1312 Commerce Street
Lynchburg, VA 24504
(434) 455-1500
Website: http://www.craddockterryhotel.com
---
I was a guest of the Craddock Terry Hotel, but as always — all opinions and photographs are my own.