Everyone likes a little luxury in their life and I for one happen to really enjoy luxury when I travel. But sometimes you simply need to get from point A to point B and luxury may not be an option. So how do you travel? It might be by car, bus, or train. Living in Boston, I have the option of any one of these modes of transportation. But is cheap travel from Boston worth the hassle?
I love living in Boston and one reason is because I'm less than a 15 minute walk to South Station, the largest railroad station and intercity bus terminal in Greater Boston. It's also the second largest transportation center in all of New England after Boston Logan airport. From here I can either take a train like the commuter rail or Amtrak or walk only a few steps over to the South Station Bus Terminal.
I needed to go to Springfield and since I no longer have a car, my choices were either to rent a car, use a Zipcar, or take a bus or train. While I've traveled by train in other countries, it's strange that I've used them more elsewhere than in the US. Might be because the cost is substantially more than abroad or because we tend to want to jump in our cars before thinking of other methods of transportation. Since I live in the city, I use public transportation all the time when I'm not walking. So why not try something new?
After doing a little research online, I quickly discovered that because of my schedule I was going to have to take a bus out and a train back. My first stop was the Peter Pan Bus website.
It only took a few seconds to enter in my travel date and destination on the Peter Pan Bus website before I found a schedule I liked. Choose the schedule that works for you, enter in your payment details, and print out your ticket.
The morning I traveled, I only needed to walk to South Station Bus Terminal and locate the gate for my bus. The ticket said boarding starts 15 minutes before departure, but I arrived about 30 minutes early and there was already a line. Boarding started about 5 minutes before departure and I only needed to turn in my ticket to the driver before boarding the bus.
The nearly two hour bus ride was uneventful and I settled into my seat with my headphones and iPhone. While there were outlets available to plug in devices, I didn't need to use any and probably would have been a little afraid to even try.
All Peter Pan buses come equipped with power, WiFi, and seat belts, too. While not top of the line luxury travel, the $20 trip was easy and affordable. The bus is definitely a great way to try out cheap travel from Boston and see more of the world around you.
For my return trip from Springfield back to Boston, I chose Amtrak, which stops at both Back Bay and South Station.
The day before I traveled, I used my Amtrak app to purchase my ticket. I had a choice of a coach seat, business seat, or Viewliner Roomette. Wanting to try something completely new, I chose the Viewliner Roomette for $83. For my trip the Bedroom wasn't available and although I was curious to see how big it was, for a short 2 1/2 hour trip, I didn't need it.
Of course, if you don't buy your ticket online or through the app, you can always buy it inside the train station. The Springfield train station was small with one employee at the ticket window and a small lobby. Vending machines are available for snacks and drinks.
When the train arrived, I waited for the passengers onboard to get off before approaching the conductor with my e-ticket. He told me to walk down toward the front of the train where my car was and so I was off. You can see the cars at the front have an extra level of windows, which are the cars with the Viewliner Roomettes and Bedrooms.
The Amtrak crew member ushered me in the car and told me to go down the hall. I inadvertently opened a door as I thought I was supposed to go through it, not realizing it was someone's private room. D'oh!
He told me to look for Room 7 farther down the hallway and there it was on the left side of the car. The car itself was quiet because it was just me and one other person in the entire car. Before he vanished for the remainder of the trip, the crew member asked if I wanted a beverage and I asked for tea, which he promptly brought to the roomette.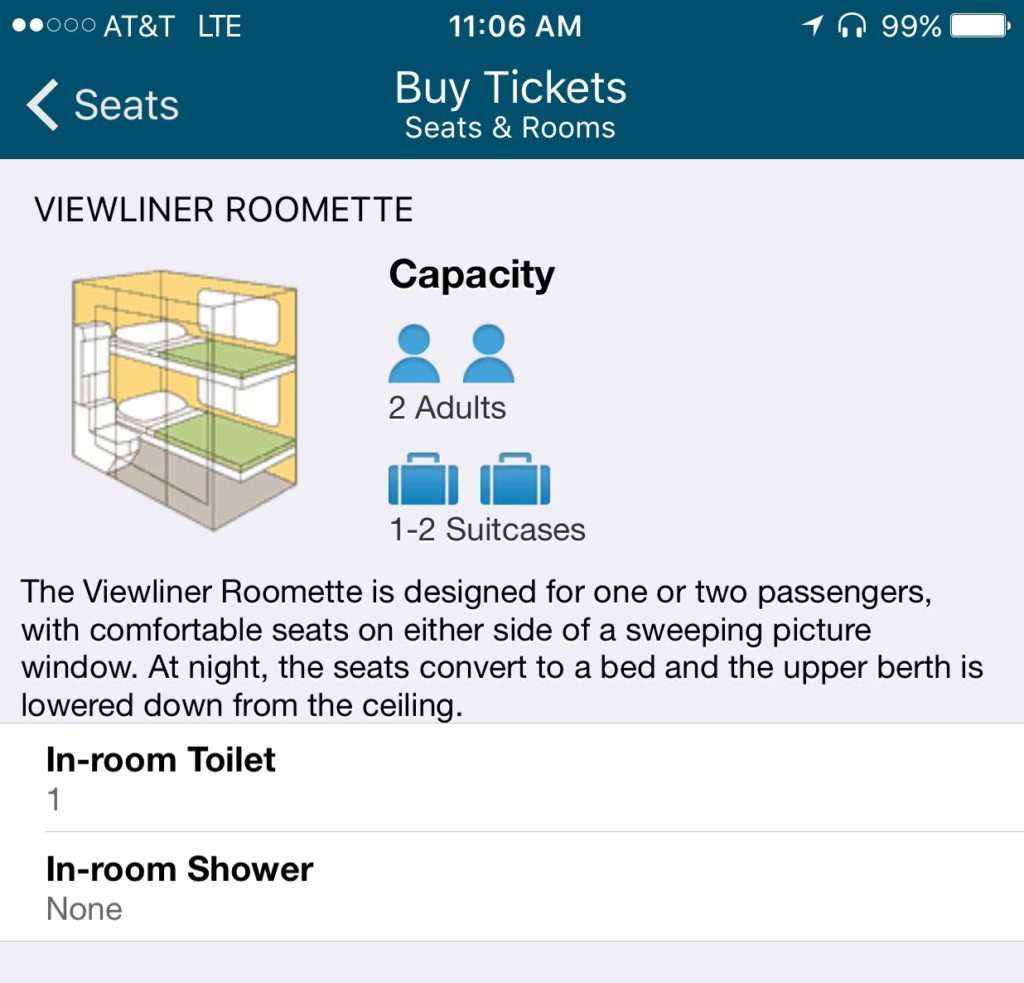 If you're wondering how small the Viewliner Roomette is, think of a very small cruise cabin and then cut that in half, then in half again.
There is enough room for two passengers to sit facing each other and those seats convert into beds for longer trips.
As you can see here, I pulled out the little table from the wall, which also doubles as a chess/checkers board.
Each seat had a pillow and a bottle of water and the roomette came with a copy of the National, Amtrak's onboard magazine. There's also a few hangers to hang up coats or jackets and a place to stow them up and out of your way.
Here's the view from the other seat facing forward toward the sink and toilet area. Yes, I said sink and toilet. The sink stows away so all you see is the bottom of it in that pink/peach color.
I didn't discover the toilet until about 15 minutes into the ride. There it is next to my boot, which full disclosure here — I didn't wear my Dr. Martens to match the train toilet. I was a little perplexed on how to use the toilet with only a curtain separating me from everyone else in the hallway. However, there is an actual door to your Viewliner Roomette that you can close for privacy while using the bathroom or while sleeping.
Here's the view from my roomette across the hall to another roomette in the same car. While you could save the $61 and pay for a $23 seat in the regular train car, I still think this is still affordable and cheap travel from Boston.
The train ride back felt considerably quicker than 2 1/2 hours and before I knew it, I was back in Boston and at South Station. It was already dark out as it was now after 8 pm, so I quickly walked back home. While I might not normally think about buses or trains for travel, it definitely is an option to consider, especially when thinking about cheap travel from Boston. I definitely liked how convenient it was and that's why I'm already thinking about a long train trip from Boston, maybe even across the country. The low price tag and convenience considerably outweighed any hassle for me in the end.
What are your thoughts on cheap travel from Boston? Do you think it's doable? Worth it?