Have you heard? by CHLOE Seaport Boston has opened! When I'm traveling, one of my travel necessities is finding new vegan and vegetarian restaurants. But now I can get great tasting vegan food right in my own city. Yes, there are a few vegan and vegetarian restaurants in Boston, but far less than you'll find in most other metropolitan areas. When a new vegan restaurant announces a Boston location, I'm there. (See new update at bottom of post).
Who is Chloe of by CHLOE? Chloe Coscarelli is an executive chef, lifelong vegetarian and a vegan for ten years, author of three cookbooks, and the Chloe behind by CHLOE. Chloe partnered with ESquared Hospitality to "bring healthy, delicious and satisfying vegan and plant-based dishes to the masses with the launch of by CHLOE."
One of the reasons I wanted to go to by CHLOE Seaport was that I noticed that their "chef-driven vegan menu features locally-sourced ingredients in their most natural form to create inspired dishes," all of which are made daily by them.
by CHLOE Seaport, a quick serve restaurant in the Seaport District of Boston, opened on February 23, 2017 and on Saturday, a mere two days after opening, I decided to head out and try it for myself, specifically their brunch, which is served on the weekends until 4pm. Apparently, so did everyone else as the line was not only inside but also outside the restaurant.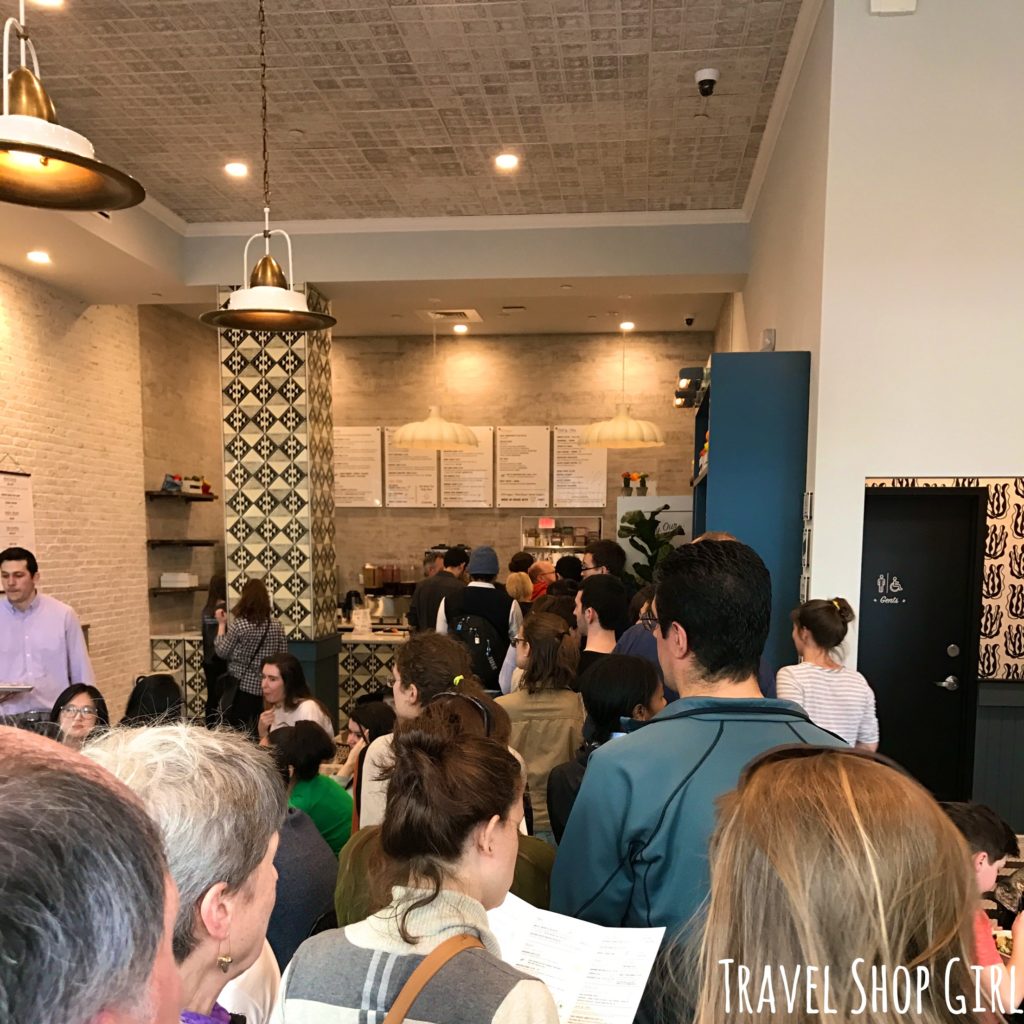 When people think that non-meat eaters are the minority, I'd have them check out all of the diehard people who were willing to stand in line alongside me for an hour or more for vegan food delivered via counter service. The line crept along slowly and we soon discovered the turnover of tables was almost nonexistent. Why? Most people stayed long after eating, despite the long line out the door. We even saw people waiting in line grabbing tables and holding them even though they didn't have food, knowing it could be 30 minutes before they even got their food.
The staff at by CHLOE Seaport really tried their best in a bad situation with more customers than they probably anticipated and a shortage of staff in the front of the house. I did see one staff member walking around with samples of the daily limeade, which acted as a distraction for those waiting in the long line.
The decor of the restaurant is light and bright with high ceilings, funky light fixtures, and plants on the table. The communal tables are supposed to invite conversation and allow for more people to sit and eat in the restaurant.
I noticed the signage on the wall by the restrooms and appreciated the no smoking or e-cig use. That's a first for me. Before you visit, do what I did and download the app. You can set up your payment card in the app and then they scan the QR code at checkout. PLUS with every $100 you spend, you get $10 towards a future order. Believe me, it won't be hard to reach $100 quickly at by CHLOE Seaport.
As you approach the counter area, the Grab & Go case with fresh squeezed juices, salads, raw vanilla bean chia pudding, and other "grab and go" items is located on the right. Juices available include The Merry Prankster, On the Road, and several others, each $9.95.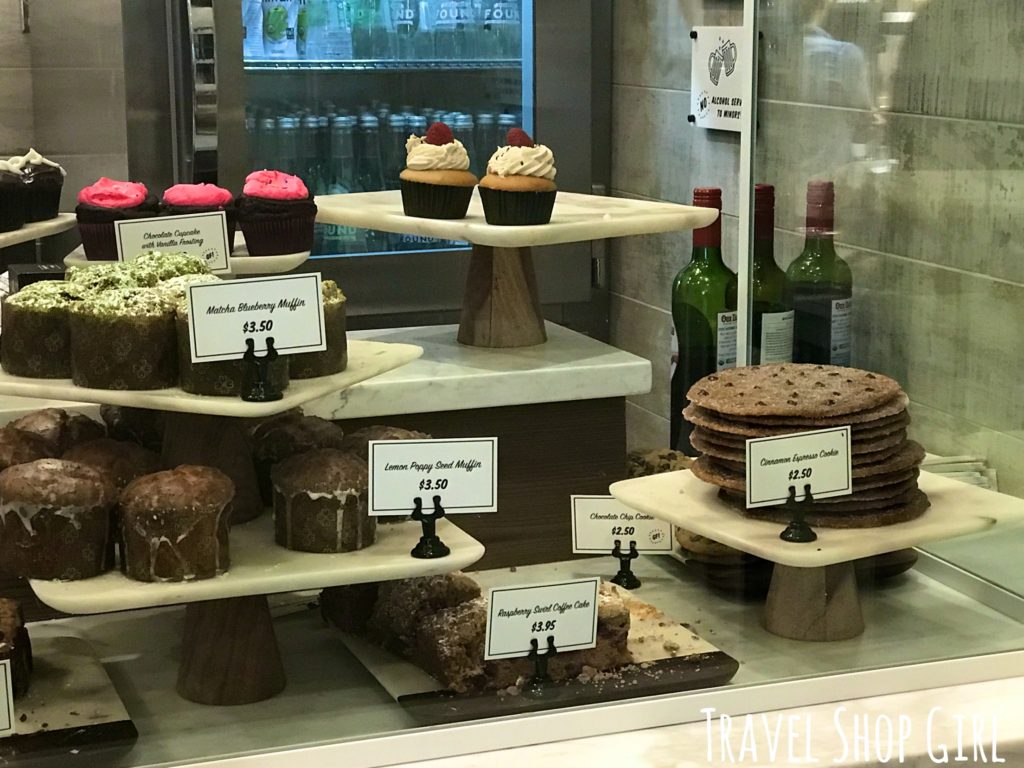 After an hour in line, when we got near the register I considered jumping over the bakery case and just devouring everything inside it. Ok, well maybe not, but it sure looked good in there. In the upper left hand corner by the pink cupcakes you can see the one that I'm holding out for: the Chlostess cupcake – get it? Like a Hostess cupcake, but by Chloe and vegan?
It was finally our turn at the register and it was now a few minutes past 4pm. As you can guess, brunch was no longer available. Some quick thinking on his feet and Mr. TSG switched from the Daily Pancake, which he was craving, to something completely different as well as one of the daily smoothies. His choice was the Purple Rain smoothie, complete with blueberries, raspberries, strawberries, banana, almond milk, almond butter, and chia seeds, which was creamy and delicious. Mr. TSG waited patiently scouting out tables while I waited for my name to be called. I think they expected us not to find a table because finally when my name was called, all the food was bagged up. In a perfect world, I wish people would have gotten off their phones, stopped talking, etc. and let others have a table to sit down and eat. We ended up taking our food across the street and sitting on a bench and eating outside.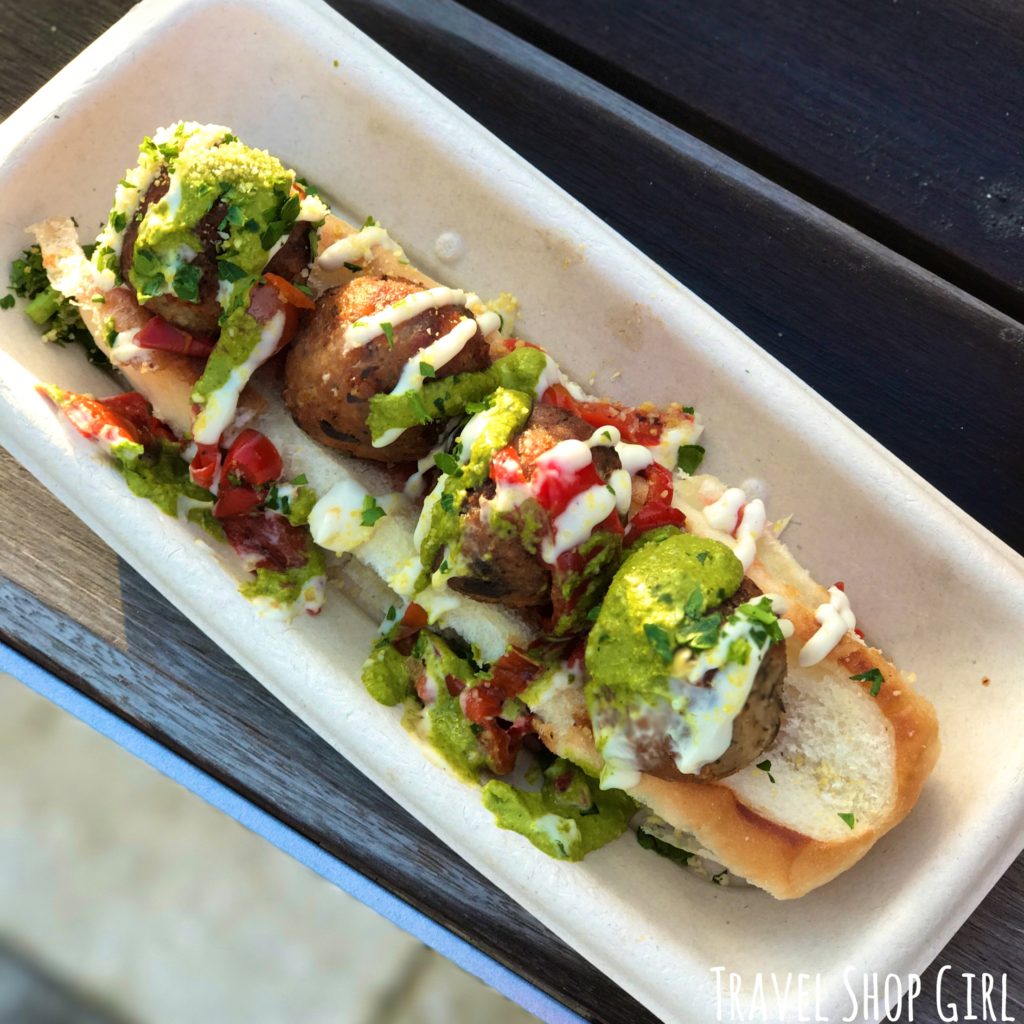 Mr. TSG ordered the Pesto Meatball sandwich, made with Italian meatballs (portobello + veggie), marinara, sweet peppers, basil pesto, cashew mozz, almond parm, and a potato sub roll. For $9.95, this is a really small sandwich and definitely wasn't enough to satisfy him, especially as he had gone on a 90-minute run only a few hours earlier. He found the meatballs to have a strange texture, almost gummy, but this didn't stop him from devouring it.
Trying to torment me slightly, he also ordered the air baked french fries, which unfortunately for him, came undercooked and looking quite anemic. Fortunately for me, I wasn't even slightly tempted by them because of that. He ate all of them and only afterwards said he wished they had been cooked longer and had salt on them.
My meal of choice was the Spicy Thai salad made with apricot-sriracha glazed tempeh, almonds, quinoa, edamame, scallion, crispy wontons, and peanut dressing. I loved the salad, but found the tempeh to be definitely more sweet than spicy. In fact, it made the entire salad a little too sweet for my taste.
A certain someone decided he also wanted dessert and chose the cinnamon espresso cookie, which as you can see here, was bigger than his hand. I'd almost bet it's bigger than my head, too. Thin, crispy, and not overly sweet, this is a great little treat (did I call it little?), either after a meal or as a snack. If you really like the cookie and want to make it home, you can find the recipe in her cookbook, Chloe's Kitchen: 125 Easy, Delicious Recipes for Making the Food You Love the Vegan Way. As for me, I think it's safer to buy them because if I make them, I'd probably eat all of them.
New restaurants always have hiccups and by CHLOE Seaport did a great job for being open only a few days when I visited. Yes, the line was long and maybe the food wasn't perfect, but I don't think there would be so many by CHLOE restaurants in New York, Los Angeles, and now Boston with more coming if they didn't have a great product. The menu is eclectic enough to please everyone and I'm pretty certain that not everyone in the line I was in was a vegan. Yes, the food will appeal to both non-meat eaters and meat eaters alike. I'm definitely going back and maybe next time I'll be able to get in for brunch.
UPDATE: Yes, I went back to by CHLOE Seaport Monday evening and I want to say I'm surprised, but I'm not. No crowds meant that everything ran much smoother and the food was definitely on point. The atmosphere was less chaotic and the food came out in a timely manner.
I ordered the Kale Caesar with shiitake bacon, avocado, almond parm, maple-wheat croutons, and caesar dressing. I love that this isn't a basic salad because when a vegan or vegetarian goes out to eat, we're kind of limited on what kinds of salads we can get. Typically, it's a house salad, but this was so much more than that. I loved it and wouldn't change a thing except for maybe more of the super yummy shiitake bacon.
Mr. TSG couldn't help himself and ordered the Guac Burger made with a black bean-quinoa-sweet potato patty, corn salsa, onion, guac, tortilla strips, chipotle aioli, on a whole grain bun. Let's just say he loved this burger and devoured it. He also loved the chipotle aioli and found it next to the napkins and forks alongside the beet ketchup so he could dip his fries into it. Speaking of fries, he wanted to give the air baked fries a second chance and this time they were crisp and yummy with just the right amount of salt on them.
by CHLOE
107 Seaport Blvd., Boston, MA 02210
Hours:
Monday – Friday: 11am – 10pm
Saturday + Sunday: 10am – 10pm
Have you visited by CHLOE either in Boston or elsewhere? Read more vegan and vegetarian posts on the site. I do love my food so maybe I should change my name to food travel girl?