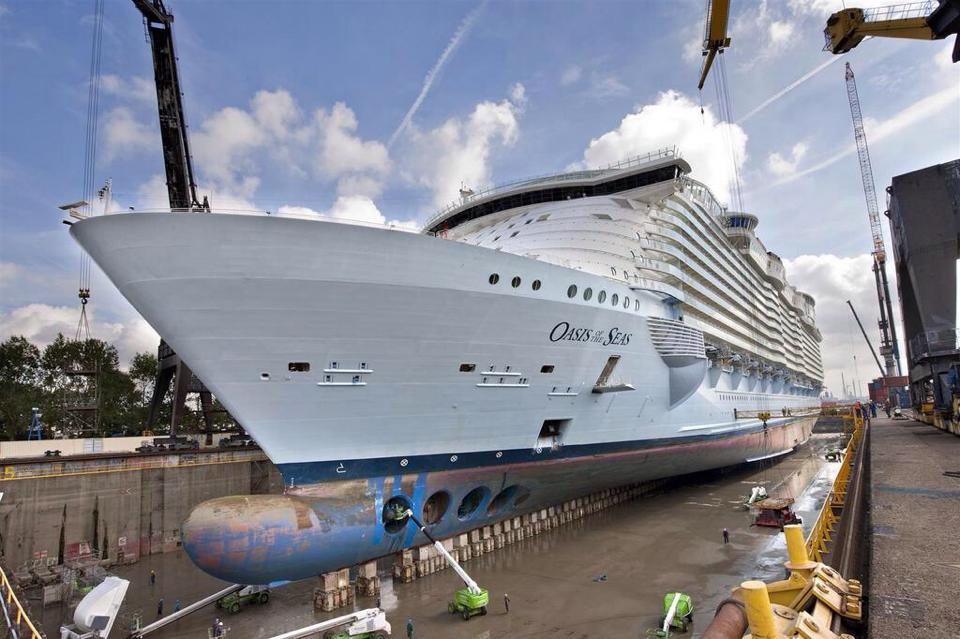 It's no secret that I love to travel and I'm constantly in search of new adventures.  When the chance presented itself to sail on Royal Caribbean's Oasis of the Seas not only after her refurbishment, but on a transatlantic sailing, I had to jump at the opportunity.  While this won't be my first time on the Oasis, it's my first transatlantic crossing and my first time on the ship after her refurbishment. Don't you just love that new car, I mean new cruise ship smell that a ship has after a refurb?
You can't help but appreciate the size of the Oasis when she dwarfs the workers at the shipyard. What an amazing contrast!
Oasis of the Seas was an amazing ship when I sailed her April of 2010 so what exactly are they doing during the refurbishment at Keppel Verolme shipyard in Rotterdam? The basic refurbishment, which began on September 30, 2014, will include replacing some of the furnishings, carpets, drapes, as well as other routine maintenance. The pictures below are from the Oasis of the Seas webcam, which shows workers in full construction mode on the Boardwalk.  
The much anticipated Dynamic Dining concept, which will debut on Quantum of the Seas first, will arrive on the Oasis in March of 2015.  The traditional main dining room of the past will be replaced with multiple restaurants – 18 in total, seven of which are fee-free for guests.  I've read on various message boards what other changes might occur and it seems like some possible changes might include that The Dog House will move to the spot previously occupied by the donut shop, Cupcake Cupboard will move to the Boardwalk, Sabor 2.0 will move into the area formerly known as Seafood Shack, there will be a Michael Kors store where Willow was, and the restaurant Wonderland will move into what was previously the Diamond Lounge. This hasn't been confirmed by Royal Caribbean so for now we will just have to wait and see either when I get on the ship or if they release official word on restaurants. 
One definite change is that Oasis will return for her first cruise (the one I'm on!) with a brand new musical, CATS replacing the previous show, Hairspray.  This is no abbreviated show either, but a full 2 1/2 hours.  
I am eager to get onboard the Oasis of the Seas to see all of the changes firsthand, but first I'm heading off to Reykjavik, Iceland and then to London before boarding the ship in Southampton on the 15th of October. You'll be able to follow me along on my travels through Instagram, Twitter, and FaceBook as well as here on the blog to get the most up to date pictures and information as I continue to look for some unique activities along the way.