What do you do when you only have about 28 hours in Provincetown? You eat and drink your way through it, of course! After taking the fast ferry from Boston, Mr. TSG and I dropped off our bags at our hotel and stopped first at Local 186. With seating inside and not only a patio outside, but a porch area on the second level, I was ecstatic to sit outside and enjoy the fresh air. To start off our meal, I had an icy cold tasty margarita and Mr. TSG ordered up a Local 186 draft beer, some fried Grillo pickles, and fried avocado. That Margarita was so good. Like I could have stayed in that seat on the porch of Local 186 for the rest of the day good.
WARNING: You're not about to see pics of healthy food and beverages. You've been warned.
One of the reasons I chose Local 186 was because they have a veggie burger on the menu. Mr. TSG ordered a house-made organic veggie burger with smoked gruyere and sauteed onions on a bun and fries. I had the same burger minus the bun and cheese with guacamole and sauteed onions. Delish! Seriously the crispiest and non-greasy in any way kind of fries I have ever had anywhere.
Next up we ordered a few more drinks before leaving. Mr. TSG had the Local Old Fashioned (Eagle Rare 10 Bourboun, Peychaud's Bitters, muddled fruit, Luxardo Cherry, and a splash of soda). The drink was really good, but thanks to our server, Mr. TSG discovered the best part of the drink was that special cherry. As for me, super fan of tequila and mezcal, I had to have the After Life (Del Maguey Vida Mezcal, prickly pear puree, agave, lime), which was perfection.
TSG Tip: Not all places are the same so shop around, try new stuff, and patronize the places where they offer great food, drinks, and service.
Click To Tweet
TSG Tip: Not all places are the same so shop around, try new stuff, and patronize the places where they offer great food, drinks, and service.  While Bubala's across the street comes up first on search engines, the food is expensive, drinks are awful, and service is from what I experienced, bad. We stopped off for a drink and I asked the server what she would recommend for a cocktail. She asked what I liked, I said tequila, she pointed to the margarita and made a face like "duh – right there." She then was MIA for the rest of the short time we were there. The overpriced margarita tasted like $2 tequila with a store bought mixer. Just because people go somewhere year after year and there's a line to get in, doesn't make it good.
Service at Local 186 was outstanding, the view and vibe were great, and the food and cocktails were really, really good. This is a definite must for your next trip to Provincetown.
Local 186
186 Commercial St. Provincetown, MA 02657
www.local186.com
You've probably seen the signs for Aqua Bar with their $3 Pabst Blue Ribbon beers, but maybe like me, you've never stopped in.
With incredible views overlooking the water, this is the place to go, whether you have 28 hours in Provincetown or a few days.
You might not think this is anything really to check out, but trust me, you'll want to walk up those steps and past the raw bar on your left.
The Aqua Bar serves only drinks, but you can grab food from inside at the Aquarium Mall and snack or have a meal while you enjoy a cocktail and the view.
The picnic benches and seats along the edge fill up quickly and for good reason. Did I mention the view?
There are sections of the bar that are partially covered, but I didn't go to Provincetown to sit in the shade as I was all about the sun. But don't let me stop you if that's what you want to do.
While the bar itself may be small, these bartenders are super fast. While we were there, there were only two working and they were cranking out drinks at a lightning fast pace.
That's true even when a redhead goes up multiple times for drinks. Don't hate!
The cocktail menu offers a great variety of drinks and as you might've guessed, I chose a Margarita and Mr. TSG had a beer.
Then we sat and took in the view under the hot summer sun and I loved every minute of it.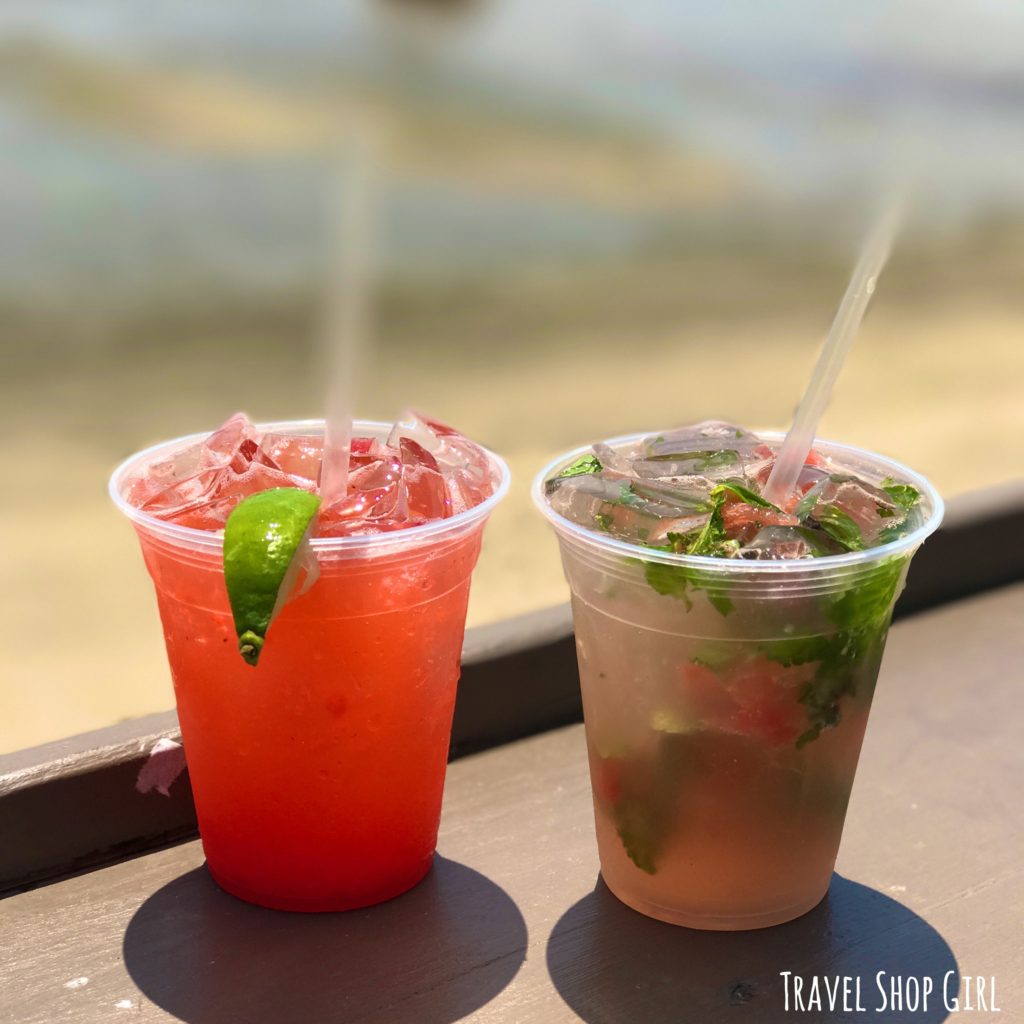 Next up for me was a Strawberry Margarita and Mr. TSG enjoyed a Watermelon Mojito. You might think, how good could a drink be that's served in plastic cup? They are really good and while I would've preferred an actual glass, I get it. It's a beach joint and this is what they do. So unbutton that top button, put on your flip flops, and relax a little with a few drinks at the Aqua Bar. You can thank me later or at the very least, buy me a drink.
Aqua Bar
207 Commercial St. Provincetown, MA 02657
Remember I mentioned that you could bring food in from the Aquarium Mall? You have to walk through here to get to the Aqua Bar so when you start feeling hungry, have one person hold your drinks and send someone inside to grab some food. We're talking pizza, seafood, Mediterranean food, cookies, and yes, gelato.
And not just gelato, but even a couple of flavors of vegan gelato. I had the strawberry vegan gelato, which was creamy and fruity and delicious. Perfect on a hot day and just what you want in the summer. This small shop is definitely worth a visit any time of day.
I Dream of Gelato
205 Commercial St. #209 Provincetown, MA 02657
www.idreamofgelato.com
Maybe you're more in the mood for something savory instead of sweet. Then check out Street Eats, the bright yellow food truck looking restaurant that offers almost anything you could possible want including gyros, philly cheesesteaks, burgers, grilled cheese, chicken tenders, and fried oreos. Mr. TSG was feeling hungry and ordered up a grilled cheese and fried pickles for himself and some hummus and pita chips for me.
Or maybe a burrito is what you need. If so, then Big Daddy's Burritos, with both meat and vegetarian options, is a fresh and healthy option. They even serve a veterinarian approved safe dish called a Pawrito for dogs. How cool is that?
Aquarium Mall
206 Commercial St. Provincetown, MA 02657
Now this next place was one I wanted to go into just to check out, but Mr. TSG couldn't hold back and ordered not one, but two donuts at The Donut Experiment during our 28 hours in Provincetown. These made to order donuts allow you to choose the donut of your choice, then the icing, and then the topping. Mr. TSG chose the vanilla icing with Fruity Pebbles for one and then caramel icing and Reese's Pieces for the other. Yes, I hate him and yes I chose to ignore him while he ate the donuts. My god I probably gained 5 pounds just walking into this place and he eats donuts because he can. Whatever. Anyway, they also have hot or iced coffee and you can order donuts individually or by the half dozen or dozen. The next time you're in Provincetown and want to indulge, check out The Donut Experiment.
The Donut Experiment
293 Commercial St. Provincetown, MA 02657
www.thedonutexperiment.com
While some may not think of Ross' Grill as somewhere to go for a drink during the day in Provincetown, I was not about to let that affect my decision to go.
Located in Whalers Wharf, Ross' Grill is a European bistro known for its New American cuisine, wine, and fantastic harborfront views.
That meant I needed to pony up to the bar and order a drink at Ross' Grill. Yes, I wasn't interested in dining here as it's pretty much all meat and seafood, but I wanted to enjoy those views.
TSG Tip: The host informed me that there are only two tables on the balcony, but if you order your own drink at the bar, you can take your drink outside and sit on one of the big sofas. Sounded good to me!
Did someone say comfy sofa overlooking the water? Yeah, I'm in. My Mango Margarita was strong, but that meant I could sit back and enjoy the view a little longer than I anticipated. I imagine if you do enjoy meat and seafood that whether you choose a seat inside or outside, you'll like this place for lunch or tapas or dinner.
TSG Tip: Check out the super cool X-ray photographs in the ladies room before you leave.
Ross' Grill
237 Commercial St. Provincetown, MA 02657
www.rossgrillptown.com
If you've walked up and down Commercial Street like I have many times, then you've definitely walked past the Patio. This time, instead of walking on by, I stopped in.
My drink of choice was the Pineapple Mojito with tons of crushed ice. Ignore the pink color of the pics here. The umbrellas are red and totally killed my pics, but with a few drinks in at this point, I didn't really care so you shouldn't either.
It should be no surprise that Mr. TSG was hungry. He ordered the avocado toast with poached eggs, salad with house vinaigrette, and roasted potatoes. Now I will freely admit that on this particular day I was devoid of all manners as I reached across the table and devoured most of his salad. While it was a simple plain salad, that house vinaigrette was unbelievable. So fine folks over at the Patio, if you want to send me either the recipe or a bottle of this stuff, I wouldn't be completely against it.
The eggs were poached perfectly and every facet of this dish wasn't just beautiful, but delicious. Our server was professional and had a sense of humor as Mr. TSG tried to order a veggie burger, which wasn't on the menu, but he insisted it was. I think it was the drinks and the sun talking, but let's keep that between us, ok? I would definitely return to the Patio the next time I visit, whether I have 28 hours in Provincetown or more. I recommend that you do as well as you will love the drinks, the food, and the service.
Patio American Grill & Cocktail Bar
328 Commercial St. Provincetown, MA 02657
www.ptownpatio.com
With tons of food and drink choices, whether you have 28 hours in Provincetown or plan to spend a few days, a week, or a month, you'll have an abundance of options in this great town. Have you been to Provincetown lately?